---
Poly Jacking – Concrete Lifting & Leveling – Serving Rochester, MN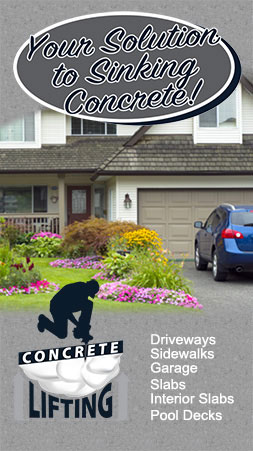 You've worked hard to make your house into a beautiful home. You deserve to have it looking perfect, not spoiled by uneven slabs of concrete. All Craft Exteriors' concrete lifting process (also known as poly jacking) is a fast, long lasting, and inexpensive way to eliminate unsightly uneven concrete and increase the appeal and value of your home.
Eliminate trip hazards
Uneven concrete puts you, your family, and your guests at risk of serious injury. Why take the chance?
Save time and money
Ripping out and replacing a concrete drive or walk is expensive and messy. Eliminate the need for massive vehicles and huge crews with fast and effective polyurethane concrete lifting.
Make your home beautiful
Uneven slabs of concrete in a driveway, walk, patio or stoop detract from the look (and perceived value) of your home. Call All Craft Exteriors today and let us lift that concrete back into place. Your home will thank you!
Why Use Polyurethane Foam to Lift Concrete?
It's Cheaper
Poly jacking can be up to 75% less expensive than replacing sunken concrete
It's Faster
Poly Jacking is up to 80% faster than other repair methods. Usually, you can use the surface the same day it's been lifted. Mud-jacking takes longer to set up. Replacing your sunken concrete with new slabs can take days to complete.
It's Cleaner
Poly jacking is less messy than mud-jacking, and the holes we drill are much smaller. Our crews are smaller than replacement crews and they use less equipment. This means less impact on both your home and your neighborhood
It Lasts Longer
The foam adds much less weight to the soil under your concrete than traditional Mud Jacking. Plus, our poly foam never shrinks. Our moisture resistant formula is actually designed to repel and displace water, making it ideal for wet conditions.
How Does "Poly Jacking" Work?
The All Craft team drills small holes in the sunken slab. We then inject an environmentally safe polyurethane foam into the void beneath the slab. This structural foam expands up to 27 times its original size. As it expands, it simply lifts the concrete slab into place. Once the concrete is back in place, we patch the holes. It's that simple.
WOULD YOU LIKE TO LEARN MORE?
CALL NOW FOR A "NO PRESSURE" APPOINTMENT!