Siding Sub-Contractors
May 3, 2018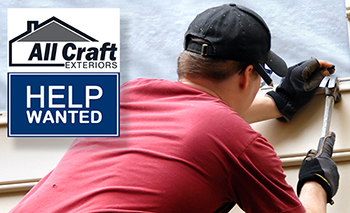 Candidates we're looking for:
Have at least 1 year of siding and/or window installation experience
Have a valid drivers license
Do great work
Show up on time
Treat customers with respect
Why should you apply:
Working hard, doing top-notch work, and being a loyal part of the All Craft Exteriors team has great perks. You'll receive excellent pay on a bi-weekly basis, you'll get complete work orders, and you'll get to work with high-quality materials. All while getting the respect and appreciation you deserve.
About our company:
We are an energetic and fast-growing company built on trust. Our team is the best in the business and is made up of craftspeople who pride themselves on doing the highest quality work possible for our clients.
The Location:
We serve Southeast Minnesota and we are based in Rochester.
How to Apply:
Call or text: (507) 884-4127 or email us.