Window & Siding Installer
January 5, 2018
Gutter Installation Foreman
August 6, 2018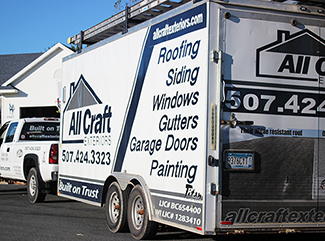 We're hiring sub-contractors mainly for installing residential and commercial siding (steel, vinyl, and LP) – both remodels and new construction. We're looking for someone who has at least 5 years of experience, is honest, and takes pride in the trade. You should be registered with the state of MN, have a respectable looking vehicle, tools, and equipment, as well as current insurance.
About our company:
All Craft Exteriors is a fast-growing company built on trust. Our team is the best in the business and is made up of craftspeople who pride themselves on doing the highest quality work possible for our clients.
The Location:
We serve Southeast Minnesota and we are based in Rochester.
How to Apply:
Call or text: (507) 884-4127 or email us.