---
---
All Craft Exteriors – Rochester & Winona Minnesota
What Customers Have To Say About All Craft Exteriors
We value feedback from our customers. We treasure every good review, and we learn from any constructive criticism we receive, too. At All Craft Exteriors, it is our goal to provide the best service in Southeastern Minnesota. Please leave your review!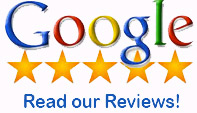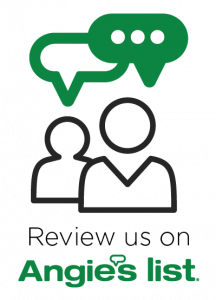 ---
"Great quality workmanship, honest throughout the whole process. Best of all the service is quality just like the work."

→ Chapmans – Rochester, MN
---
"We had All craft put on seamless gutters on our garage and machine shed. Also, do shingles on our home. Did awesome job with both projects . Was great to come home from work and job was all done, neat and clean. Would highly recommend them to any friends or family. If we need work done in the future we will be calling All Craft!! Thanks Guys. Thank you!"

→ Steve & Lynn R. – Millville, MN
---
"We had two trees fall into our house due to a storm in August and had to evacuate our home for a few days. Thank you to everyone at All Craft Exterior for your expertise and professional workmanship. Being able to move back in to our house in just a matter of days was greatly appreciated. Brent was always pleasant, helpful and responsive. I would highly recommend All Craft Exterior for any construction projects and would definitely contact them again in the future. We had an overall positive experience and are very well pleased. Thanks Again."

→ Yvonne
---
Thanks so much for getting the gutters done so quickly! We really appreciate it, especially with all the rain we've been getting lately. Thank you also for getting us on the proposal on the doors and windows. We are still trying to decide if we can afford to do it this summer.

Thanks for everything!

Brian & Noelle Milderstein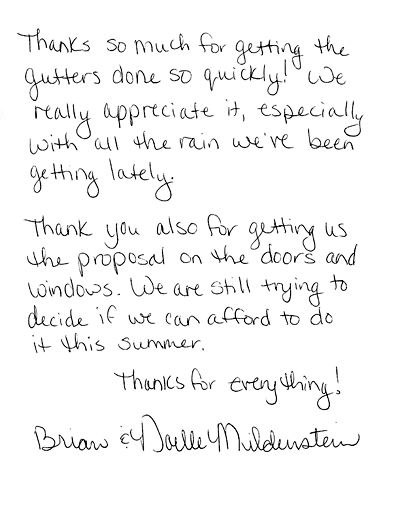 ---
Chad,

Thank you so much for the amazing job you and your entire crew has done. Everyone has been a joy to work with and the patience you all have had is so kind! We couldn't be happier with the outcome… the attention to detail has not gone un-noticed! Thanks a million.

Todd, Anne & Greta Hazen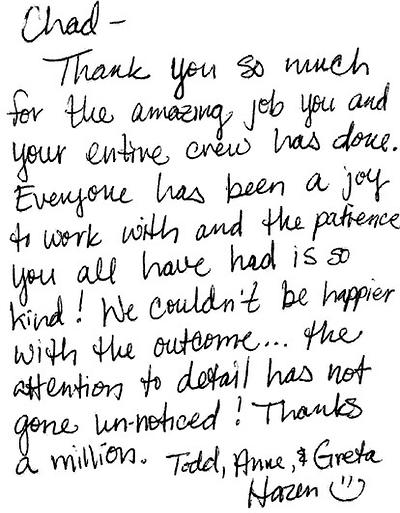 ---
Dear Brent,

The guys did a super job removing the old siding, repairing underlying damage and installing the new siding. We had a little trouble with communication and timing, but the work is great and I'm generally very pleased with the end result. I do recommend All Craft.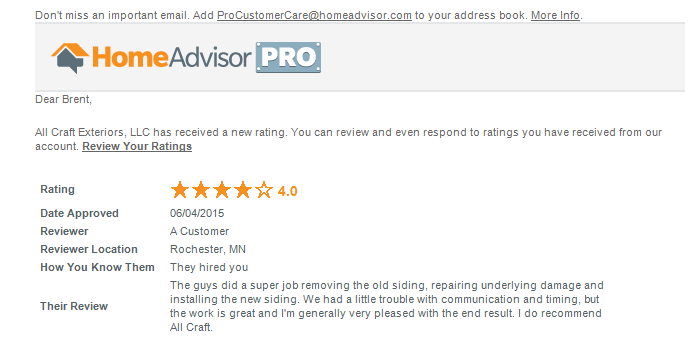 ---
Good Morning Chad!

I meant to send you (and Adam) an email of appreciation last night for making the trip out here yesterday at the last minute to help me out. It is nearly impossible to find someone with the level of service that you have provided me over the years. Just about the time I think I have seen it all, you find yet another way to exceed my expectations! I can't thank you enough for all you do for me, my customers and Timberland Partners. I may not always take the opportunity to express my thanks, but be assured that I know I cannot succeed at what I do without fabulous people around me and I am forever thankful to have you and All Craft as an extremely valuable partner. Thank you for all you do!

Blaine Carlson
Service Manager

---
Just wanted to thank you for being so nice. Thank you for helping with my door. I couldn't have done it alone. You and Chad came to my rescue and thanks again. Here's a small token for you to do with what you want.

Thanks again!
Matt Olson
---
I just wanted you to know that I just love my window. The work that was done was very professional right from meeting Charlie at the high school for the home and living show and Rory's crew was the best. I was surprised of the wonderful cleanup when I came home. I will certainly pass your name on to anyone who asks. Thanks again for a wonderful job from start to finish!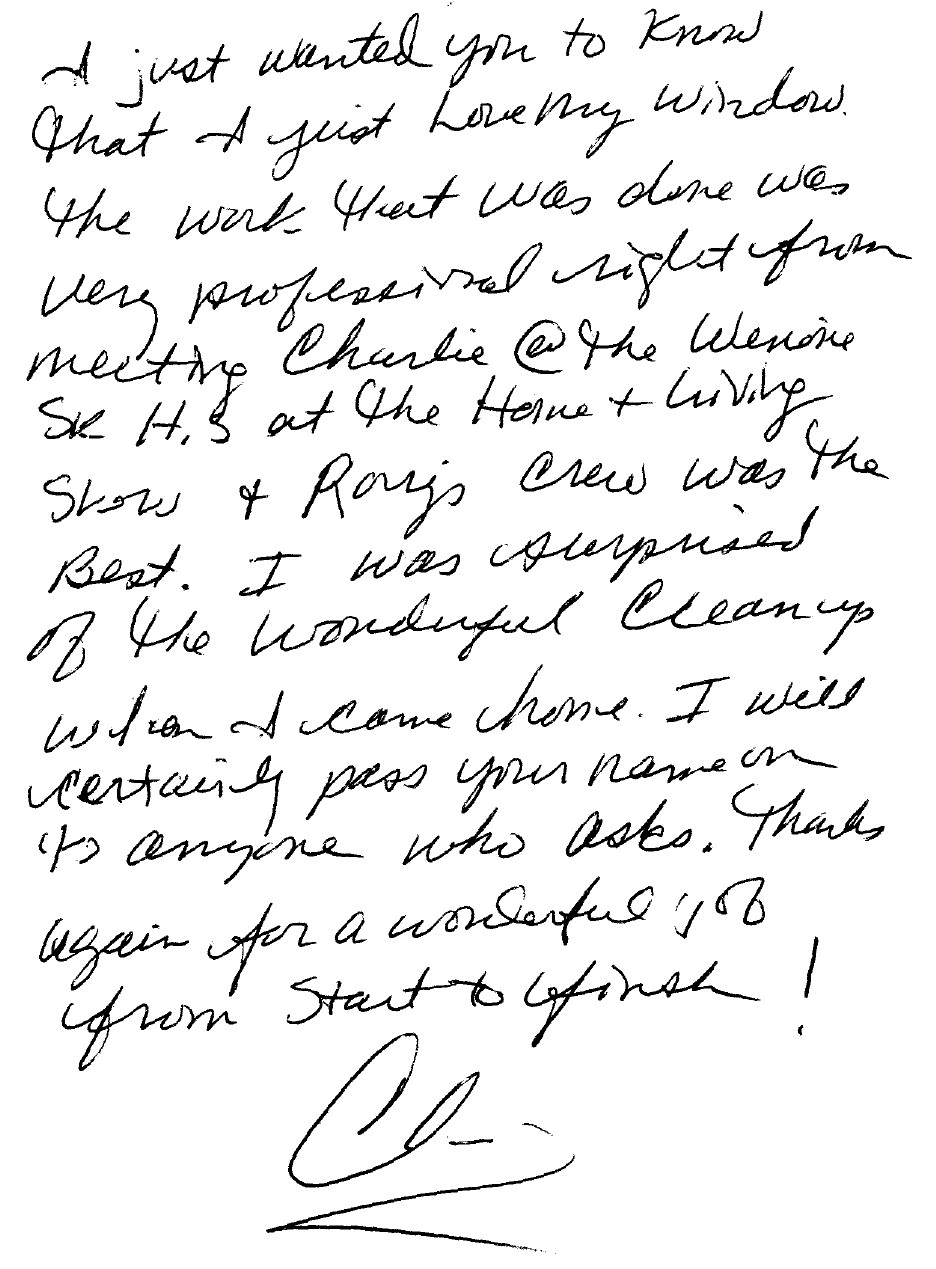 ---
To say the process from the estimate of our windows to the installation was first class, would be an understatement. Chad helped answer all the questions my wife and I had as well as pointing things out that I had never thought of, all while keeping quality and cost at the beginning of the conversation. His install crew were helpful, efficient, and did excellent work. For years we have lived with a drafty house, and on one of the windiest days of the fall, our home is warm and ready for winter after the installation. I highly recommend using All Craft Exteriors

Andrew Kieffer
---
We had new windows and a front door installed a couple weeks back. We REALLY love our new windows and door. The front of our house has the facelift it was in need of. We can't believe how wonderful the front of our house looks. Every employee that we dealt with was professional and courteous. If we need work in the future, we will definitely be calling All Craft!!

Sandy Haldorson
---
Last fall, we contacted All Craft Exteriors for a quote on our roof hoping we could afford to have it completed before winter. The idea of doing the job ourselves was not appealing. Chad, Adam and their crews exceeded our expectations completing the job in a day, even with the challenges of our roof. This note is way over due for what All Craft did for us, they went above and beyond and there are no words to truly say how thankful we are for their work, their attention to details and making sure they had the measurements correct and sending out two crews to do the work. Thank you All Craft, you are the best.

Sue & Terry
---
To: Brent Beck

I'm Greg Morse from Kasson and I am restoring my house in Kasson which was built in 1900 by O.W. Schultz Lumber, Kasson. My goal was to rebuild the house back to original including the old architecture and character. I interviewed 7 contractors and immediately I was so impressed with Chad. He is the most knowledgeable of all, full of ideas (!) to make my project a success. I'm so excited to see it completed. I know it's going to be beautiful.

Thanks a lot,
Greg Morse
---
Leave a Review
Have you worked with All Craft Exteriors? Did we do a good job? Is there something we can do better next time? Please leave us a review. Customer feedback is highly valuable. Use the form below to send us a message.