---
Storm Damage Specialist Serving Rochester, Minnesota – Roof Repairs – Siding Repairs
A storm can damage multiple parts of your home or business! Because we specialize in multiple services, All Craft Exteriors can handle all of your restoration needs. Let's face it, the Rochester, MN area is prone to wind, rain, hail and snow. A rough storm can wreak havoc on your gutters, windows and siding. Storm damage may be covered by your insurance policy and our staff can help you file your claim and get the work done quickly and efficiently. We offer free estimates, fair prices, and quality services.

Roofs
Many times a storm will tear off shingles or even knock a hole in your roof. All Craft Exteriors is here to help with this. We are available to help you file your insurance claims and fix your roof. Have you experienced additional damage to your home? There is no need to call several different companies: All Craft Exteriors can fix it all!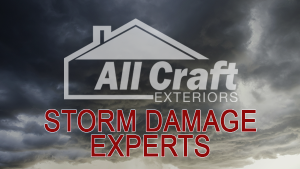 Windows
Has a storm damaged your windows? Or has a tree fallen through one? We are able to fix your windows quickly and efficiently. We offer a large variety of replacement windows to match your existing windows. On the other hand, maybe that storm was a reminder that it's time to upgrade all of the windows in your home. Either way, we are here to help!
Siding
Most siding can withstand a lot. But like anything else in this world, siding will suffer the ravages of time. When weakened by age, siding will experience wear. Powerful storms can scratch or tear siding. Worn or damaged siding exposes your home to harmful elements.
If storms have damaged the siding on your home or business, All Craft offers everything you need to replace your siding and protect your home. When you are looking for new siding in a different brand or color, we can help with that too. Give us a call today and learn more about our siding products.
When it comes to major storm damage, put your trust in us!
We can get what you need to restore your house to pre-storm condition or better.
We know your insurance company is not always right.
We believe you shouldn't have to live with a ugly patch job – we work to help you get EVERYTHING replaced.
Don't get stuck on price when you're dealing with storm damage; we can work with your insurance company to come to an agreed price.
We know you shouldn't make do with a low insurance settlement- pick a contractor based on the service they offer, not the price they'll settle for.
All Craft Exteriors will work with your insurance company to ensure you get the repair job you are entitled to.